On July 16th, the 134th Infantry Regiment, commanded by Col. (later Gen.) Butler M. Miltonberger, and made up largely of Nebraska National Guardsmen, was released from Corps Reserve and entered the attack on the left of the 320th and next to the 29th Division. Its men quickly distinguished themselves capturing hill 122 which overlooked St. Lo, taking the town of Emilic in hand to hand fighting following close support barrages as near as 75 yards, and with the help of the 654th T.D. BN. and part of the 737th Tank BN., joining with the division in throwing back a major counterattack. The regiment received a Distinguished Unit Award and the 3rd Battalion received the French Croix de Guerre for their part in this operation.
Air Force P-47s provided excellent help with strafing and bombing, and on July 19th the division was on the North edge of St. Lo, held there while a combat team of the 29th Division was given the green light to move into the city from the East and clean out the last German stragglers and a few gun positions. St. Lo had been taken.
While the media gave credit to the 29th Division for taking St. Lo, all who were there know that it required the maximum input of all the four divisions involved. A letter of commendation to Gen. Baade from Gen. Coslett acknowledged the successful conclusion of the initial combat action of the 35th Infantry Division and the repeated personal and group heroism attendant thereto. When Senator Harry E. Truman, a former Captain in the 129th Field Artillery of the 35th Division in World War I, received a copy of the letter, he was so pleased with his old outfit that he had the letter inserted verbatim into the Congressional Record.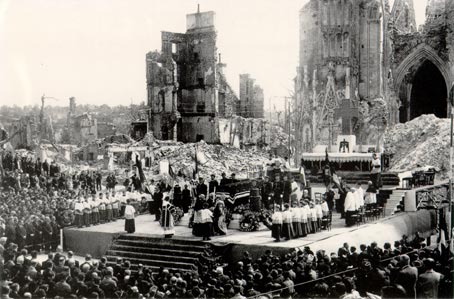 Liberation of Saint Lo, 1944, Photo "La Manche Libre" - Robert Pouchin

In later years, Lt. Col. John Hoyne, Division G-2 commented frequently that if there was one failure in the division it lay in the non-recognition of innumerable acts of heroism that occurred in the division, and the failure to write up actions and recommend Santa Fe soldiers for medals. so many worthy actions were later forgotten or the witnesses themselves had become casualties. No one had been assigned the duty of securing proper recognition to its soldiers. Col. Hoyne felt that there should have been many more Bronze and Silver Stars and Distinguished Service Crosses awarded within the division. We agree, and that was particularly true in the battle for St. Lo.
The capture of St. Lo did lay the foundation for the breakout from the Normandy bridgehead, which became the next combat action for the division. It was code named "Cobra" and it was to begin on July 25th, 1944. The battle of Normandy was over.

Learn more in Northern France

Or go back to where you started, in Normandy